Description
B07D3SFF9J
Features
【Compact and Humanized Design】 On/off power button designed on the cigarette Lighter Splitter is for energy-saving and devices protection, avoid unnecessary power consumption and reduce wear and tear, expanding lifespan of the device. Extension cord allows easy access from back seat.
【Triple USB Charger】The Quick Charge 3.0 Technology engineered to refuel compatible devices up to 4 times faster than conventional charging suit for cell phones quick charge support. Along with other two USB smart charging ports with 3.1A total output enable charge 3 devices simultaneously.
【Two-in-one Splitter Socket Design】 12V/24V cigarette lighter sockets provide a total power up to 120W enough for simultaneous of multitude devices in your vehicle. Note: If your car's 12V/24V outlet stays on after the key was off, pls unplug or turn off all the devices after shutting off the car.
【High Safety Standards】 Built-in 7A fuse with protective circuits and high quality components prevent the car charger splitter and your devices from overheating or overloading. Made from anti-scratch ABS and high-quality fire proof material. Certified by RoHs, CE, FCC.
【Satisfaction Guaranteed】 The cigarette lighter splitter comes with a 30-day money-back guarantee, an 12-Month warranty and lifetime of friendly customer service!.
Car Lighter Socket Splitter - More Info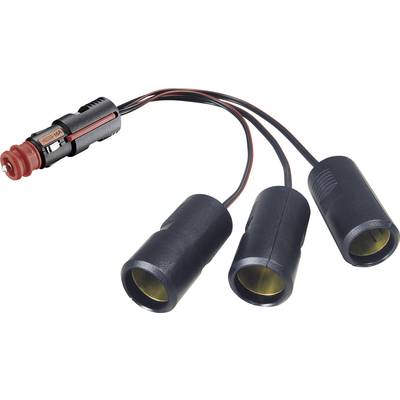 Connector features: Incl. fuse; In-car 12V outlet splitter (category): In-car 12V splitter; Input (in-car 12V outlet): Cigarette lighter plug, Standard connector; Inside diameter: 21 mm; Max. load capacity: 15 A; No. of 12V connectors: 3 x; Operating voltage: 12 V, 24 V; Output (cigarette lighter): Connector - More Info - EAN: 4019524000928
https://www.newfrog.com/product/120w-3-ways-auto-socket-splitter-car-cigarette-lighter-socket-splitter-12v-24v-dc-usb-port-car-charger-power-adapter-2-colors-133352.01 - More Info
https://www.newfrog.com/product/120w-3-ways-auto-socket-splitter-car-cigarette-lighter-socket-splitter-12v-24v-dc-usb-port-car-charger-power-adapter-2-colors-133352.02 - More Info
https://www.newfrog.com/product/3-ways-12v-24v-car-splitter-cigarette-lighter-cover-adapter-120w-usb-car-socket-car-charger-98235 - More Info